Jetex Atom 35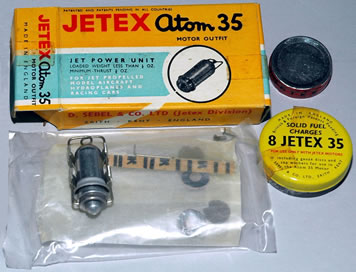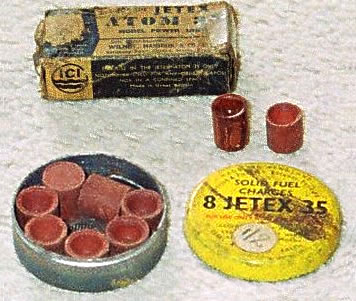 Claimed to be the smallest rocket motor in the world, the Jetex Atom 35 was of the simple yet successful design that had already been employed for the Jetex 50B and 50C motors. Along with the Scorpion, it was one of the last two motors to be marketed by Wilmot Mansour, in 1953.

Pellets had a hollow on the bottom (see lower photograph left) that sat on a conical metal end shield and attenuated the surge of thrust at the end of the motor run which was common in the other small motors.

ICI initially produced the fuel for the Atom 35; this came in a cardboard box, as shown. Most pellets were a tight fit in the case, which, being of a thin gauge, was easily dented, making loading more difficult. The motor also tended to suffer from 'blow back', which could be obviated, but only partly, by a slight increase in the original spring tension. The small case diameter made wick loading tedious and the duration of the Atom 35, at around seven seconds, discouraged many modellers – though some found the brevity of benefit when flying within restricted spaces!

When Sebel took over Jetex (three years after the introduction of the Atom 35), ICI withdrew from fuel manufacture and Sebel began producing their own fuel (see History section). In the case of the Atom 35, the pellet size was shortened (see rightmost pellet), probably to avoid the case temperature going too high with the hotter-burning Sebel fuel. The shorter pellet encouraged some to load two pellets (shaving a little more off one) to achieve a longer motor run; this tended to acccentuate the 'blow back' problem, however.

The various disadvantages of the Atom 35 meant that few models were developed for it.