The Story of Micro Rocket Propelled Models



Here we cover the story of attempts, both successful and unsuccessful, to power models using micro rocket propulsion. This story begins near the start of the last century and still continues into this third millenium.

Although the golden years of Jetex form a large part of our story, we also recount other efforts, both earlier and later, to achieve, and take advantage of, micro rocket propulsion. In particular, we tell how the introduction of Rapier motors has revitalised the flying of model aircraft designed for this form of motive power.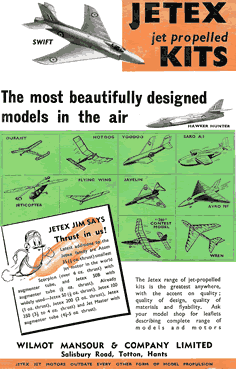 - Aeromodeller Anual, 1953 (back cover)