Phil Smith



Phil Smith earnt his position in the Jetex.org Hall of Fame through his eminently flyable series of kit designs, which introduced countless model aircraft enthusiasts to the potential of the new source of power.


---
Details of Phil's kits on the Jetex.org website include:
Fouga Cyclone
Supermarine Attacker
North American F-86 Sabre
Republic F-84 Thunderjet
Hawker Sea-Hawk

---

As a designer for Veron, Phil Smith achieved a coup for himself and his company with his 1948 win in the inaugural Queen's Cup, flying a stretched and enlarged version of his Veron 'Hi-Climber' Wakefield. Phil had joined the design staff of Veron (Model Aircraft (Bournemouth) Ltd) in 1946 and remained with the company for 34 years, eventually becoming its Chief Designer. Veron management took advantage of his win to promote Phil's first Jetex designs, the 'Cirr-O-Jet' and the 'Air-O-Jet' – even though Phil had built his Queen's Cup winner entirely in his own time and had entered non-professionally as a member of the Bournemouth Model Aircraft Society.

The 'Cirr-O-Jet' (for the Jetex 200) and the 'Air-O-Jet' (for the Jetex 100) were contest designs, and among the very first kits produced for the new motors. Following their success, Phil turned his hand to producing scale designs of contemporary jet fighter aircraft, successfully overcoming a number of problems which presented themselves in achieving a semblance of realistic scale flight. He wrote about his approach to tackling these problems in a frank and informative article in the Aeromodeller Annual of 1951.

"The first mistake" he made, wrote Phil, "was grossly to over-estimate the power available when relating scale designs to the same comparative size of Jetex duration model." He found it "virtually impossible to emulate the streamlined contours of a modern fighter with anything but formers, stringers, and laminated balsa construction". He also found that "positioning the Jetex units usually has its attendant detraction from scale effect". His solution – and one that was adopted by almost all subsequent designers of Jetex scale craft – was to fit "the motor unobtrusively […] within a trough along the belly of the fuselage", using "designer's licence" to drop the fuselage contour "to hide the width and depth of the trough".

As one of the first designers of commercial Jetex models, and as a craftsman who approached his task with flair and a sound grasp of the science of model flight, Phil Smith was influential in pointing the way for other designers. In no aspect of the craft was this more so than in the difficult task of achieving realistic scale designs for motors that initially seemed ideal for emulating full-scale jet aircraft but in practice presented special challenges to designers.

Although Phil Smith made an enduring profession out of model aircraft design, aeromodelling always remained for him "a loving and endearing hobby in which", as he wrote, he had "chosen to make an honest buck out of it!"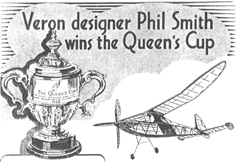 Veron used Phil Smith's Queen's Cup win to promote his "newest jet design", the 'Air-O-Jet' (see below).

- Model Planes Annual, 1949 (p. 8)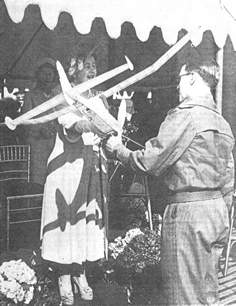 Queen Elizabeth shows Phil the correct grip for launching his winning Wakefield 'High Climber'

- Sam 35 Speaks, June 1991 (p. 6)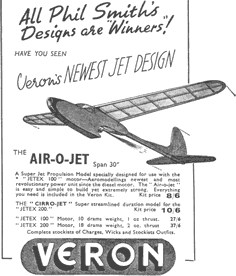 - Model Planes Annual, 1949 (p. 8)