In England in 1947, Charles Wilmot and Joe Mansour were developing a micro rocket motor for model aeroplanes. The name "Jetex" seems to have been coined towards the end of that year.  Certainly, their first advertisement appeared in Aeromodeller magazine, in June 1948, with a cover story and two plans, for a scale Gloster Meteor (below) and a Zephyr duration model.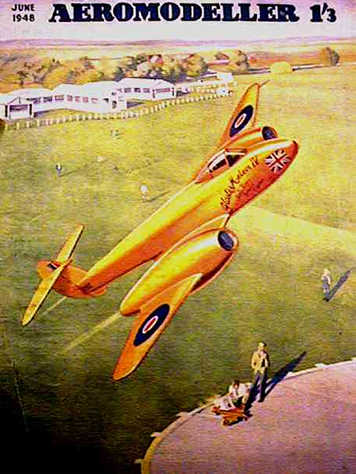 The cover painting was by renowned aeronautical artist C. Rupert Moore and depicted a Gloster Meteor model in flight.  It was a balsa block design, powered by twin Jetex 100 engines.



Wilmot Mansour claimed in that first Jetex advertisement that  "Jetex 'Space Age' miniature jet reaction engines provide the latest scientific form of power.  Jetex engines have an unlimited variety of scientific as well as recreational uses; they may be installed easily and safely in most any form of model aircraft, boat, or car."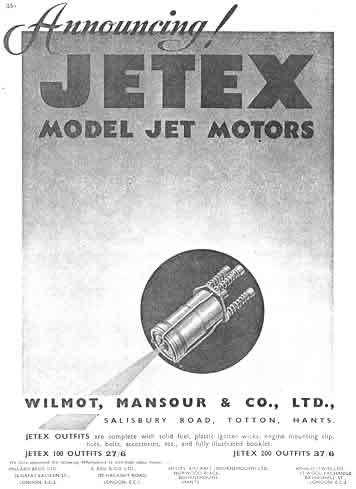 The first Jetex advertisement, from that same issue.  The two engines on offer were the 100 and the 200. Aeromodeller's reviewer considered the new engines expensive, priced as they were at 27/6d and 37/6d.



The first motor produced, the 100, developed approximately 1 ounce (28 g) static thrust and weighed 7/8 ounce (25 g) loaded. It was priced at 27/6d and its larger sibling, the 200, at 37/6d – about half the price of a small diesel model aeroplane engine at that time.  As diesel fuel was so much cheaper per flight, Aeromodeller magazine was rather dismissive of Jetex as "expensive to fly".

In late 1948, the larger 350 motor arrived, followed by the overwhelmingly popular 50 size in May 1949. The 50 outfit cost just 10/6d, equivalent to about eight copies of Aeromodeller magazine.  It came attractively packaged in a yellow box, which would come to be regarded as classically Jetex.