The (Jet)X Files 23 (November 2004)
by Roger Simmonds


Reprinted from SAM 35 Speaks, November 2004 (with corrections)

State of Efflux

First, please note the change of address. Moving to temporary accommodation has inevitably caused disruption to this year's building programme and affected my ability to answer correspondence in a timely manner. I have a computer 'hard disc' problem as well, so please forgive me if your letter or e-mail has gone unanswered; I hope to get back on track soon. Having exchanged proximity to Old Warden for proximity to Middle Wallop, I looked forward to attending this event for the first time. Unfortunately the weather that particular weekend was most uncooperative and I have little to report, apart from meeting Phil Smith – of whom more later. I also missed Peterborough 'Flying Aces'. Mike Stuart reports it was blessed with wonderful weather (again!), but few people were flying jets, and only he and Chris Strachan entered the Rapier event.

On a happier note, Pete Williams will have his new website, Petesplans, up and running soon, and Terry Kidd's Jetex site, which was the first of its kind and an inspiration to us all, is back online at jetexsystems.pwp.blueyonder.co.uk/jetex_home.html.


Following September's discussion of the innovative Veron 'Scale-jet' kits, Phil Smith (whose new drawing of the Thunderjet is shown right) sent me a copy of his retraced plans for the Seahawk. It now shows a Rapier L2 and displays the Aerographics logo; very nice, but it's a pity some of the explanatory diagrams that adorned the 1951 original were discarded. Phil writes: "Nice to see the old illustration of the Thunderjet, which was one of my own original photos of the series".

"The undercarriages were added to make them look more authentic (photographer's licence), but for expediency and to save weight, they were omitted from the kits and on the plans. Nor, I'm afraid, did the kit list include rubber for catapult launching!". Phil is not sure how George will reproduce the printed wood parts for the resurrected kit.

Though the new plan lacks some nostalgic details (right), there is, in compensation, a large 3-view detailing the colour schemes and squadron markings that can add, like ersatz undercarriages, so much to the verisimilitude of this type of 'stand well off' scale model.

Rapier Matters

Availability has been somewhat sporadic this year, though, contrary to recent rumours, Rapiers can still be sent through the post. I have had sufficient stocks as my flying has been curtailed through personal circumstances and the somewhat inclement weather that has attended our meetings. At this rate I have enough L2s to last some years – that is, if they keep. Whilst original Jetex pellets, whether ICI or Sebel formulations, are not hygroscopic and appear to keep forever, there is some indication that Rapiers have a 'best before' date and it is unwise to hoard them more than a couple of years. I wonder if they keep better in the freezer?

Some time ago, before Rapiers were available in quite the variety of ratings they are now, it was suggested that they could be left in a damp place to absorb moisture; this would retard the burn rate and enable less stressful trimming at a reduced thrust. The experts opined that any effect would at best be unpredictable and at worst make the propellant useless except as fertiliser. I do not know if anybody actually tried it, but the poor weather this year led to an inadvertent experiment. Early in the Spring I was delighted to order several boxes of the (then) elusive L2 HP. I was less delighted when the postman left the precious parcel outside the back door, open to the elements. The packaging, I found to my horror, not particularly waterproof. "Oh well", I thought, "Rapiers are moisture resistant", and hid them in the airing cupboard. I then forgot all about it, and tried this batch at August's SAM Gala in a state of blissful ignorance. The motors proved difficult to ignite and gave no better than a powered glide from the normally oh so reliable MiG 15. This was most frustrating. I tried one in my FD 2; this was a little better – a longer glide. Whatever was the matter?

Then I remembered the motors' earlier baptism. Their thrust was (I would guess) about 80 mN, though the burn time was longer. Rapiers, then, can degrade and are not impervious to moisture, so: (a) store them in a warm dry place, and (b) could suppliers please, please, secure boxes in a waterproof package before dispatch?

As has been discussed before, Rapier exhaust is hotter and smokier than Jetex. This can be a problem with (authentic) conversions of small gliders like the Keil Kraft Cub or Veron Coronette to reaction power. Both Andy Blackwell and Mike Stuart have Cubs that go very well with L2 LTs (but do fit a D/T!). Remember, though, that whilst the exhaust from a Jetex 50 endangered neither the tail feathers nor the fuselage, a Rapier will require additional protection of exposed surfaces.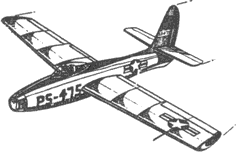 Veron Thunderjet, drawn by Phil Smith


- Phil Smith's catalogue of plans, 2004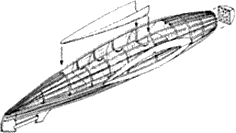 Phil Smith's Seahawk 1051 for Jetex 50 (1950)
- construction diagram


- Phil Smith


Albert Hatfull's Dolphin had a good glide, but the wing spars were inadequate for towing and limited its performance. I don't know if a Jetex 50 was indicated on the original plan, but Howard Metcalfe's clever Rapier conversion (rubber bands secure both the wing and the motor mount, see right) flies beautifully, revealing the potential of this graceful design. The motor arrangement provides useful downthrust and the L2 HP's exhaust is (it might be thought) well out of harm's way. Unfortunately, burn holes soon appeared in the Mylar covering – caused by spluttering fuses, not motor exhaust! Leigh Richardson uses quite a substantial foil strip to preserve the underside of his L1/L2 powered Zephyr.

Troughs of depression

The ubiquitous trough is a continuing, indeed chronic, source of angst to us Rapier fliers. Like many others, I line these 'neat grooves' (as an early Model Aircraft review called them) with Halford's foil tape. This is light and, being sticky-backed, very convenient. However, it does corrode quickly; the surface then becomes less heat reflective and scorching or even fires can result. Wiping away the sooty deposit with Boots' 'Basic Wipes', (much more effective than tissue and spit!) can ameliorate corrosion, but even so I find myself replacing the foil after 8-12 flights. This is not easy as it remains very sticky. Howard recommends heavier 'Chinese takeaway' foil. This lasts longer and can even cope with several degrees of downthrust, where motor exhaust is inevitably deflected off the trough surface. However, replacement is still necessary from time to time. Has any reader a better solution to the 'trough lining' problem? Does anybody know of a suitable heat resistant paint?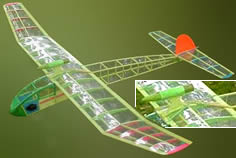 Hatfull's Dolphin - Rapier conversion
by Howard Metcalfe (inset shows detail of motor and wing attachment)


- Howard Metcalfe