Trace the drawing of the driver off the plan, and transfer it to ¹/

8

" sheet. Cut out carefully and either colour in with powder or poster paints or coloured ball-point pens. Cement the driver in position. Now make a pattern of the window shapes on paper and lay it on a piece of thin transparent Cellophane. (This can be had from your model shop in sheets 12" x 12" and costs about 10d. each.) Cut out the shape in the Cellophane and cement in place, using as little cement as you can. Repeat for the opposite side. Carefully round-off all the edges of your bubble car with fine sandpaper. Add the celluloid wheels, holding the rear wheel on the axle with a piece of plastic tubing.

Add the rear-wheel covers and sandpaper fairing to shape, Give your model two coats of clear dope. Add the details: headlamps, flashing indicator lights and rear lamps. Make the number-plates from thin cardboard and slip into cuts on the body at front and rear. Then bend two loops from 18 S.W.G. wire. Make small holes in the left-hand headlamp (model viewed from rear) and the top of the left-hand side of the rear-wheel fairing. Press the loops of wire into these holes. These loops are for the thread line along which Topsy runs. Screw the Jetex Atom 35 or 50C clip in position and slip the jet motor into the clip. Topsy is now ready for painting in any colour scheme you favour. Plastic enamel quick- drying paint is recommended. Here is a suggestion. If someone among your family or friends owns a bubble car you could paint your model the same colour and use the same registration numbers – which would be rather fun, wouldn't it? As a precaution against scorching your model, when you are igniting the Jetex igniter wick to fire the Jetex motor, we suggest that you cut a small piece of asbestos paper about 1" x 14" and cement it immediately behind the motor clip (asbestos paper is included in the Jetex motor kits). Topsy can be run free, as well as along a guide line – but choose a smooth surface, won't you?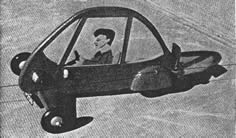 - Eagle Book of Model Cars, 1961 (Ch. 7)