Castaway by John O'Donnell



Click image to view or download enlarged dimensioned plan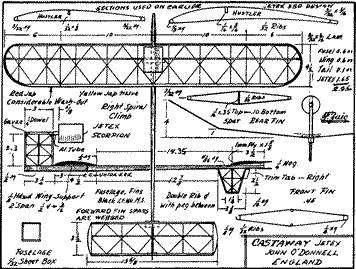 - Frank Zaic's Model Aeronautic Year Book, 1957/58 (p. 176)


John O'Donnell, a contest-winning UK modeller, told Frank Zaic that Castaway was the "latest in quite a long line of Jetex powered models of assorted sizes, shapes and weight, produced by Hugh and I over the last few years. Obtaining ratios of five or six was quite easy, but any more was a different tale. Due to the limited power and heavy weight of the Jetex unit, a reasonable power/weight ratio of the complete model necessitated ultra light model structure. Eventually the high thrust line layout was adopted and thus enabled looping to be controlled without resorting to knife edge trimming methods. The Castaway has a 76.5% C.G. which gives reasonable stall behaviour, and the very high location of the Jetex discourages loops. Flight pattern should be a very steep spiral with rudder to provide turns and wing warps to give roll. Duration of about 1:30 to 1:40 off a single charge (7.5 sec. effective) can be obtained in evening conditions without apparent lift".

To achieve a firmer mount for the motor than that supplied in the Scorpion kit, John used a thicker wall aluminium tube which was pushed into the socket at the back of the motor. This is the same procedure that Bill Henderson adopted with this motor.

The Scorpion's power was used to enable Castaway to achieve R.O.G. flight.