Arrow 50 and 100



Reprinted from Aeromodeller, April 1953, p.217

A PERFECT PAIR OF SIMPLE JETEX CONTEST DESIGNS WITH WINNING PERFORMANCE …

by lan Dowsett

Aged 20 … Serving in the R.A.F. … Member West Middlesex Club … In British Wakefield team 1951 … Main interest is in Wakefields … Other hobbies, Athletics and Table Tennis.



Two ways to get the Arrow 50 plan:

Easy, but smaller
Print this page. At the bottom, and fitting within the page width, is a copy of the plan.

More work for you, but larger
Click this link to a separate copy.
If you want to print it in full, you'll need to save it to disk, then open it in a graphics program in order to print it.



HERE'S a quickie for your Jetex, whether it be a "50" or a "100". Ian Dowsett, whose connections with Jetex activities have already gained renown, designed this pair of models for contest work in the 1951/52 season – not without success. The Arrow 100 gained the following places :-
1st, R.A.F. Championship, 1951, with 2 flight total of 7 mins. 47 secs., all on a 12 second power run.
1st, Southern Counties Rally, 1951, with a 2 flight ratios of 13 : 1 and 8 : 1.

Best flight to date with this model is 18 minutes o.o.s., a good figure for any size of model, let alone this rather small job.
The baby version, for the Jetex 50, has the amazingly short building time of 3 hours, Ian Dowsett tells us, and its performance is parallel to its bigger brother. Full size plans are [available here] so why not pull out the board and try this one for your Jetex unit. [At the time of publication] the plans for the 100 Arrow [could] be obtained in the usual way through Aeromodeller Plans Service, price 3/- post free.

Construction

Since the models are similar in construction, the same building assembly applies to each of them, and it is best to start with the fuselage. Cut the side view from 1/32 in, sheet and add the centre lamination for the pylon mounting. When this is set, remove from the plan and cut out the top elevations of the fuselage, then fit these on to the side keel. Small formers of triangular shape are then added and the respective mounting clips fitted in the correct position, screwed into 1/8 sq. blocks.

The sheet fin is then cut out and cemented in place, whilst sundry pins for wing retaining and dethermaliser action can now be fitted and the whole fuselage covered in lightweight Modelspan and given a couple of coats of dope.

The wing and tailplane structures are very conventional and need little explanation. The wings should be built in one piece, flat, on to the building board, and then cracked up in stages for the dihedral angles. Care should be taken that the flat plate tailplane is covered without uneven tension and is not allowed to warp out of true.

The tail is retained in place by an elastic band passing through the hole at the extremity of the fuselage and hooked on to the underneath of the leading edge. This will naturally pull the tail down to the "tip-down" dethermaliser position, and to keep the tailplane in its flying attitude, a length of thread is tied to the leading edge hook and this is pulled forward by an elastic band to the hooks underneath the fuselage. This elastic band is burned through by the d/t fuse and so allows the tail to tip down.

Flying the "Arrow" is simplicity itself. 8º port sidethrust was used for 100, & 4º for 50 prototypes and this was combined with offset rudder against the motor side thrust. The result is a dead straight climb under power and a nice right hand glide off the top. Test glide on a calm day, into wind, and over long grass, since it should be remembered that this is an ultra light-weight job. All trimming should be made to the tailplane and all test glides with empty Jetex units.

Materials List :–

1 Sheet 1/32 x 3 x 18
1 Strip 1/8 x 1/8 x 18
1 Strip 3/8 x 3/32 x 18
1 Strip 1/4 x 1/16 x 18
1 Strip 1/16 x 1/16 x 36
1 Sheet lightweight Modelspan
1 oz. bottle dope
1 tube cement
1 Jetex 50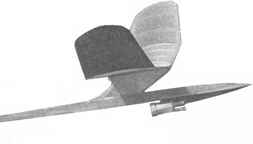 Arrow 100, Arrow 50's larger sibling


- Aeromodeller, April 1953, p.217