The Smoky Addiction 8 (August 2005)
by Roger Simmonds


Reprinted from SAM 35 Speaks, August 2005

Having moved to a new house, there is the possibility of actually building again, and an end to purely vicarious modelling. There will be much else to do, and this column will inevitably be somewhat curtailed. A jolly good thing too, I hear you say: more room in SAM Speaks for proper model aircraft!


In our enthusiasm for Jetex type propulsion it is all too easy to forget that Rapier motors are the brainchild of Jan Zigmund of the Czech Republic, and are not, as was Jetex, a British invention. Rapiers are thus readily available on the Continent, and Adam Jenik, whose Douglas Skyrocket appeared in March's Smoky Addiction, organised a meeting in Prague recently. Our intrepid foreign correspondent, Terry Kidd, went along. He reports:

"I received an e-mail from Adam inviting me to Kbely for the Rapier 'Fly-in' on Saturday the 18th of June. Now Kbely has a superb air museum with all manner of unusual types, including Soviet-era jets of the kind we like so well. Not only that, but we could fly our Rapier models and a certain Dr Z would be there with a huge selection of Rapiers.

"I found Prague, but missed my turn-off to Kbely and had to backtrack, stopping at filling stations to ask directions. At length, and after exchanging a few words with Adam via a mobile phone, buildings with all the hallmarks of a military airbase came into view. And there was Adam. After a quick trip around the museum (I'll be back for another look soon), I met Dr Z with his huge stock of motors. Rapiers, hundreds of 'em! He also had a couple of prototype electrical igniters, which worked very well. There were some lovely models around and plenty of good stuff to watch. Adam's models all flew very well, though unfortunately his Flitzer got lost – but that is what [all good] Flitzers do. After about an hour, and watching a Lightning flown by one of Adam's friends performing superbly, I was struck by the wonder of it all [&133;] I worked on Lightnings back in 1970 when I was an 'erk [&133;] and here I was on an airfield outside Prague watching a Rapier/Jetex Lightning flying around on the longest day of the year, with a [full size] MiG 21 behind me and Dr Z with a Skoda full of rocket motors. WOW!"


Adam Jenik launches his Miles M.52

Adam was obviously pleased with the day, and wrote to the Jetex.org website: "The First Prague Rapier Meeting met [all] my expectations. The weather was nice, with Just a bit of strong wind. But never mind. All of us tried to fly. Unfortunately, it wasn't without damage or loss. Dr Z liked the event and we will probably organize one or two more, first in August, and another in October with a competition for L1 duration." Adam also posted some photos, and what is heartening to see is that as well as modern rocket ships like the Flitzer, Bell XS-1, SAAB J-29, Miles M.52, Howard Metcalfe's all-sheet Slinki and the aforementioned Lightning, there were at least two examples of early Jetex designs, a Cutlass and Skyleada Comet [see right].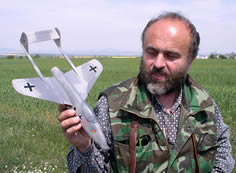 Dr Jan Zigmund with Adam Jenik's Flitzer


- Adam Jenik, June 2005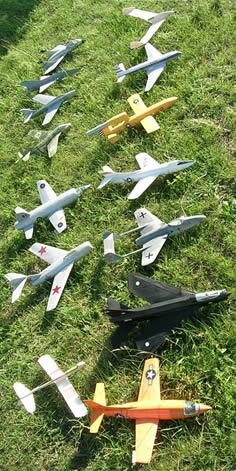 Line-up at the Prague Rapier summit


Left, top to bottom:


Cutlass, MIG-21, Sabre (Vladimir Matiskovic), Saab J-29 (Stanislov Cerny), Miles M.52 (Adam Jenik), MIG-15 (Terry Kidd), rocket glider (Dennis)


Right, top to bottom:


Slinky, Comet, Loon, D-558-2, Flitzer (Adam Jenik), Lightning (Viktor Lukac), X-1 (Gregor Weingarten)


- Adam Jenik, June 2005