Reprinted from Popular Mechanics, December 1948

Designer and builder, Roswell Brown, lights fuse of Strato-Rocket model plane built for take-off from a launching ramp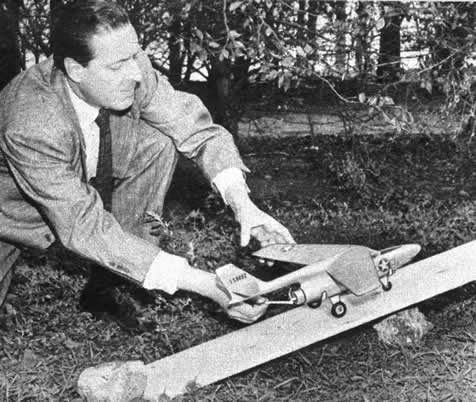 Powered by a six-ounce rocket, a model plane built by a Chicago artist drops open its "bomb bay" to expel the rocket after the charge is burned. This lightens the plane and adds distance to its run before it falls in a gentle glide to the ground.

The rocket model, designed and built by Roswell Brown, is still in the experimental stage. It was built around the dimensions of a six-ounce rocket which resembles the old- fashioned, tubelike Roman candle. This rocket is suspended by tiny hooks inside the plane with the fuse protruding at the rear. The forward end of the rocket is held by a string to a spring. This string is burned after the charge is spent and the spring kicks the rocket back about one eighth of an inch to free it from the hooks. The rocket then falls against the "bomb bay" doors which open at a slight touch to expel the rocket.

The plane is launched from a six- foot ramp with guide rails for the three-wheel dolly which drops away as the plane soars into the air. Brown's aerodynamic problem was to design a model that would hold its course under extreme acceleration and still be a good glider.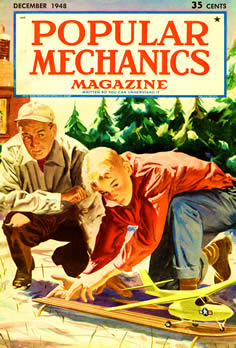 Wendell Kling gives the artist's conception of take-off in this cover painting. The model is awaiting rocket-thrust tests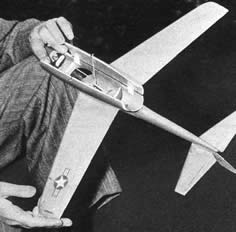 As the Strato-Rocket lifts into the air, its three-wheel dolly falls off and when the rocket is burned out it drops against the "bomb bay" doors which are opened by the weight of the rocket. This adds distance to the Strato-Rocket's glide run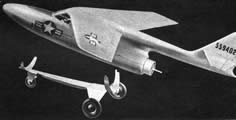 - Popular Mechanics, Dec. 1948